Faith's Gambit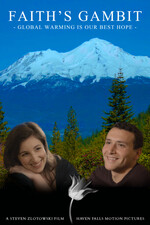 Director:
Steven Zlotowski, Kevin Ernst
Producer:
Kevin Ernst, Steven Zlotowski
A young man, shaped by generations of his family's connection with its land, and the nearly extinct plants that reside within, tracks down someone trespassing on his property. When he is charmed by this sassy, young woman intruder, his protectiveness quickly melts away, so much so, that he shares with her the transcendent flowers and his deepest secret. He will be the one breaking the four generation chain of stewardship. "The world is warming, and my inheritance is running out of time."
They meet again, by chance, in a grocery store, and this time she pushes herself into his life. Her charisma and wit weaken his resolve, and he accepts her invitation to dinner. When she offers a toast "to monastic life," he reels back, disappointed that she really doesn't understand. But then she softly and succinctly lays bare his soul, while also questioning his resolve not to have children.
She deserves an explanation, so he uses part of their dinner as a canvass to expose how the complexity of climate change has to abide by a basic and universal biological principle. One that seems to be entirely missing in the public discourse. Together, they poignantly expose this thesis, until she despairs about whether all is lost. "Actually," he says, "I think global warming is our best hope." He goes on to explain why, and she falls in love in that moment.
With two good bottles of wine to lubricate their imaginations, they tipsily exchange creative solutions to the greenhouse gas problem. One bizarre contrivance triggers an idea, a crazy leap of faith that subsequently gets set into motion. When they meet again, this time for a picnic on his property, the pendulum has begun to swing, and it will crash into their lives, and reshape the entire world. "We are going to be so happy." Will they be?