Tin Can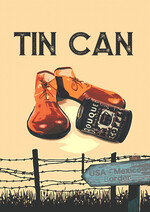 Producer:
Pat Battistini, Robert Francke, Carlos Ragas
Winner - 1st Place Audience Choice
J.C. came to America as an illegal immigrant when he was just a child. Now, as an adult, he's still an illegal alien but has managed to persevere and prosper working as a rodeo clown. However, after a series of unfortunate events, J.C. finds himself down on his luck and in search for a new happiness. He eventually finds it near the Mexican border but the price he pays could get him kicked out of the only country he knows.