Stories of Alyx and Anton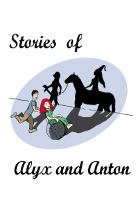 Other:
Paul Sutherland, Katie Fournell, Richard Meen, Michael Sutherland, Krishna Tailor
When daydreaming computer nerd Anton meets beautiful, quadriplegic Alyx, the two depart their bleak real worlds for a lively one of fantasy and adventure. But can two people lost in a fairy tale ever make it in reality? A menagerie of charming mythical characters and settings makes a visually imaginative spectacle of this heartwarming romantic comedy.