Moth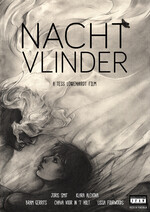 Writer:
Frederik Nelck, Tess Löwenhardt, Nynke de Jong
Producer:
Muriël Horst, Jurriaan Strous, Oscar Paling
Winner 3rd Place Judges Choice
Moth is a dark comedy about Elmer, who doesn't feel at ease in modern society; he lives secluded from other people in a remote house. When everyone goes to sleep, Elmer wakes up and goes to his job: cleaning in the hospital. He prefers to avoid his colleagues. One night, he discovers a terminally ill female drug addict. Judging from her bone structure it is clear that she once was beautiful, now however, due to the scarring and the pallor, she makes a sad appearance. When she is dead, Elmer decides to bring deepest fantasie to reality. This however, comes at a price.