A Date with Death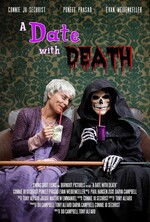 Director:
Bo! Campbell, Tony Alfaro
Writer:
Tony Alfaro, Bo! Campbell, Evan Weidenkeller
Producer:
Connie Jo Sechrist, Matthew Devapiriam Emmanuel
Winner - 3rd Place Audience Choice
A woman goes on a blind date with a charming gent, but there may be more to this suiter than meets the eye...