Agent 6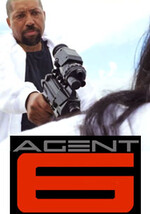 Other:
Sound design and music score by Desciple
Agent 6 is an experimental film genre I created called HYPER REALITY - where the film was created with NO SCRIPT and NO BUDGET over ONE WEEKEND. Thusly, the storyline and characters look shape as the cameras rolled.
An Agent from a secret assassins group known as The Black Box Agency suffers from multiple personality disorder and seeks psychiatric help when his last mission is compromised in this action/dark comedy.